For many people, the thought of completing registration at auctions prior to bidding can be intimidating. You know it's an important part of the process, but you don't know what to expect.
We aim to help with the process so when it comes down to how to bid, this family business makes auctions straightforward for you.
With Aligned Asset Group, however, you can rest assured that your registration process will be a smooth one. Aligned Asset Group has developed a reliable system that allows businesses to confidently and successfully bid on assets with ease.
In this blog post, we'll explore what you can expect prior to bidding with Aligned Asset Group and how our system can help make your life easier.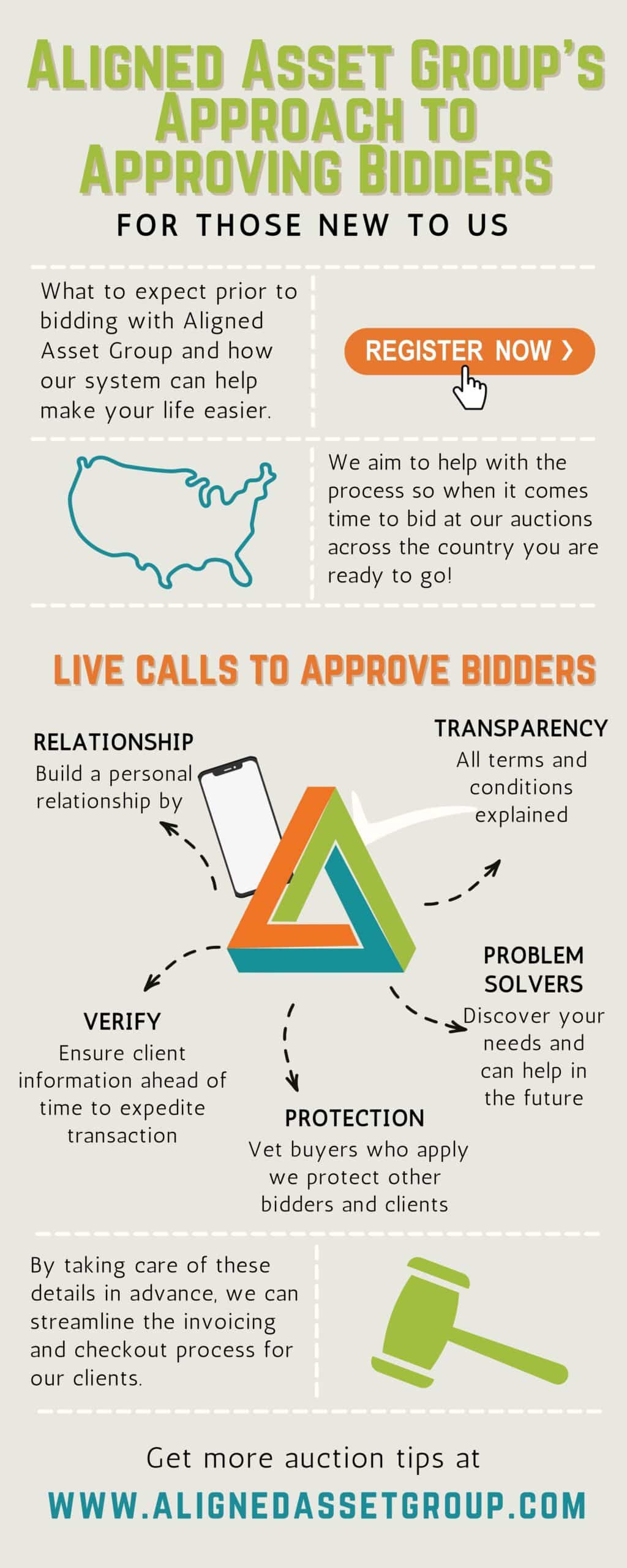 1. Build a personal relationship with auction bidders in hopes of building repeat registration
If you are new to Aligned Asset Group, we want to take the time to get to know you and your business. We will ask about your experience in the industry, what type of assets you are interested in bidding on and what type of services you are looking for.
The phone call is first step in providing excellent customer service for our clients. Often times it is the first time this small family business has a point of contact with you. It's a chance to make a great first impression by talking to a live person.
We want to learn about your business so that we can best serve you now and in the future.
This also allows us to keep and eye out for items in future auctions where we can give you a personal heads up if we see something you are looking for. We create a list of things we know some of our frequent bidders need.
We also believe that personal relationships matter. We will work hard to get to know you and your team, so that we can understand your needs and how we can help you succeed. Our goal is to build long-term relationships with our clients, based on trust and mutual respect.
We hope that by getting to know you better, we can provide a better bidding experience for you now and in the future.
2. Ensure terms and conditions that are unique to our auctions are clearly communicated and transparent to our buyers BEFORE bidding and invoicing happens
When you bid on an auction with Aligned Asset Group, you can be sure that all terms and conditions unique to our auctions are communicated clearly and transparently to you before bidding and invoicing occurs.
This way, you can make an informed decision about whether or not to proceed with the purchase, and avoid any surprises down the road.
We are proud to call ourselves Problem Solvers. As such, the process we have created helps to eliminate solvable problems before the auction begins.
In addition to selling items, many of our team members grew up attending auctions. Presently, we also attend auctions as we believe in the process.
Part of the communication we do prior to the sale as we are talking to bidders and approving them is discuss fees. We are transparent about the fees for our bidders before they put a price on something. Rigging fees are listed in the descriptions in our online bidding platforms.
This helps so there are no surprises when the bidder receives their invoice from us.
We also take this opportunity for education.
We do this for bidders new to our auction platforms (Bidspotter or Proxibid) explain the process and how it works – how to pay, when they will receive their invoice, pickup timeline) and answer any questions they have as a first timer purchasing at auctions.
3. To verify client information in order to expedite the invoicing and checkout process
At Aligned Asset Group, we understand that time is of the essence when it comes to invoicing and checking out clients.
In order to expedite this process, we verify client information ahead of time. This includes confirming contact information, verifying the accuracy of the invoice, and ensuring that all necessary documentation is in order.
By taking care of these details in advance, we can streamline the invoicing and checkout process for our clients. This ensures shipping addresses are correct for our auction bidder so their equipment arrives at the location they desire, or if picking up, clearly notate that for our riggers to expect them.
Lastly we need to clarify the bidders tax status (exempt or paying sales tax) to ensure their invoice is correctly sent to them the first time.

In doing so, we are able to provide a fast and efficient service that meets our clients needs.
4. Protecting the family business and bidders
Calling ensures the validity of buyers so bidder competition is strong.
We are able to approve actual people so we know someone isn't bidding and then planning to abandon items with no intention of paying. This protects bidders who have registered with us before, those we have already approved and future bidders who are serious about purchasing.
Furthermore it also protects our clients and their assets.
Giving another layer of protection by personally vetting buyers who apply. It also provides us the opportunity to message a buyer who has failed to complete a transaction in the past or more information if necessary.